Home&nbsp &nbsp Yelloware Rabbits &nbsp &nbsp Folk Art Animals &nbsp &nbsp Yelloware Santas&nbsp &nbsp Beeswax Ornaments&nbsp &nbsp

Beeswax Rabbits &nbsp &nbsp Beeswax Santas&nbsp &nbsp Chocolate molds &nbsp &nbsp2006 Chalkware &nbsp &nbsp




BITTERSWEET HOUSE

Folk Art

Bunny Rabbits in Boat with Salt Glazed Egg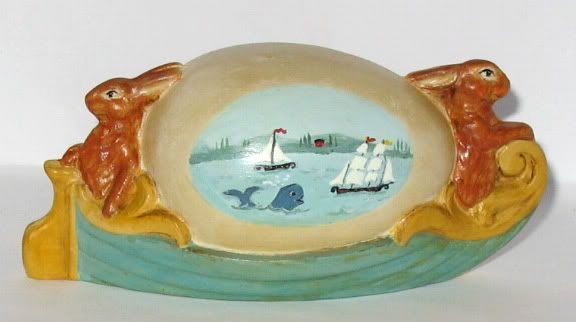 Catalog #R212; $98.00



Using self-taught methods, Bittersweet House Folk Art captures the character and warmth of the German folk art tradtion of chalkware and offers unique, hand crafted treasures. While some pieces are crafted using engaging innovative designs, others are inspired by the designs of centuries past. The exacting craftsmanship, colorful design, and finishing of these pieces reflects our historic past and as a result, each piece takes on the feel of a well-loved antique. Finishing expertise and painstaking attention to eye-catching details ensure a treasure that will last a lifetime.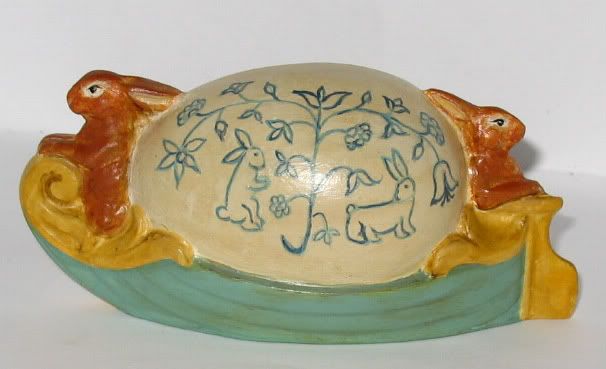 Of Special note: Chalkware figure of 2 Easter Bunnies in an antique blue boat delivering a Salt Glaze egg on Easter morn. The piece of chalkware was cast using a wonderful antique German chocolate mold and is handpainted, glazed, and aged to reflect the patina of a weathered antique. The egg is painted in the colour of Salt glaze pottery with a primitive folk art Easter scene in blue on one side. The other side of the egg has a typical New England seaside scene of Clipper ships and is reminiscent of scenes of old whaling days on Nantucket.


This absolutely charming figure, measuring 5 inches wide, is signed "Bittersweet House Folk Art, K. Campbell, 2006, Sherborn, MA".